OLA is an outstanding model of school design that optimises high level, effective student learning.
The award winning architectural design and form support the function of enabling optimal student engagement in their learning.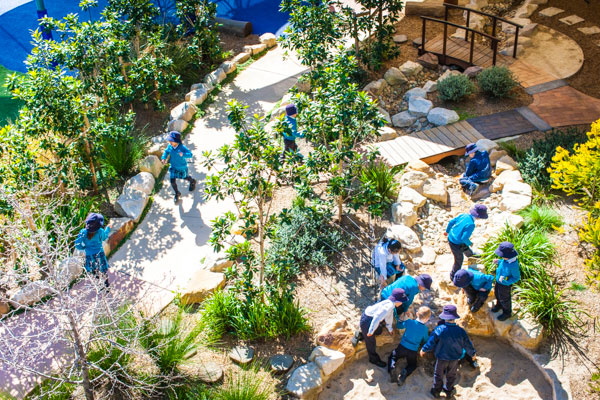 Nature Based Playground
Our well-designed landscaped gardens provide the perfect space for students to explore and use their creative imagination for play. A basketball/netball court and beautifully landscaped ground level play areas contribute to enhancing physical wellbeing.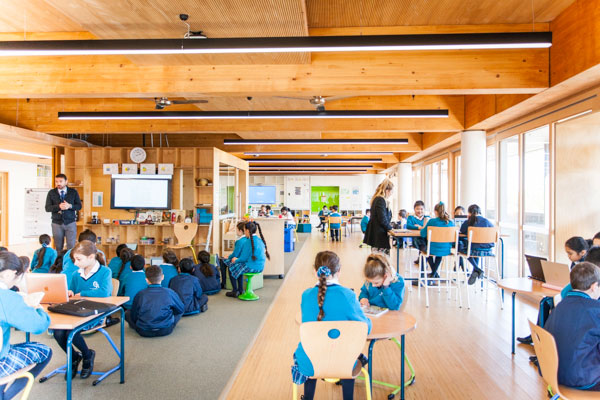 Contemporary Learning Spaces
Flexible, open and aesthetically delightful learning spaces using sustainable materials have created a warm atmosphere as a calm background to the learning. The use of movable screens, storage systems, built-in seats, nooks and withdrawal spaces, as well as lightweight and movable furniture, allow easy reconfiguration of spaces by students.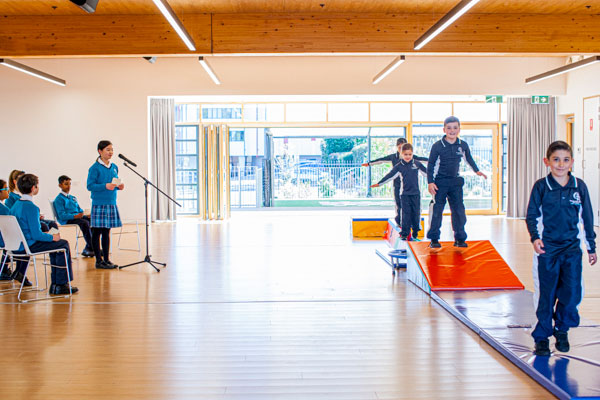 Hall
Our spacious contemporary hall with state-of-the-art audio/visual facilities provides opportunities for performance, physical education, whole school assemblies and competitions. It is also transformed into a sacred space for the celebration of the Mass and prayer services.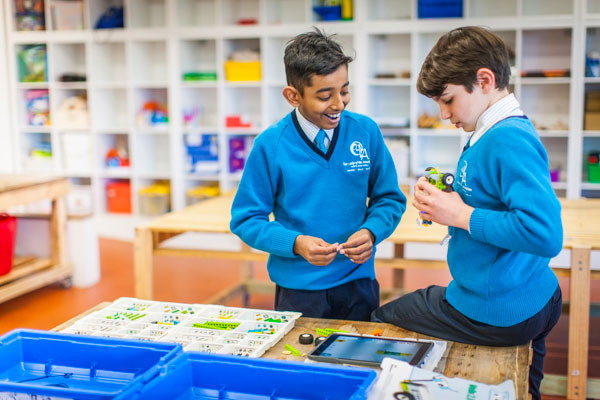 Indoor Resources
The latest digital technologies allow our students to use their imagination, curiosity and ingenuity to find, investigate and solve problems.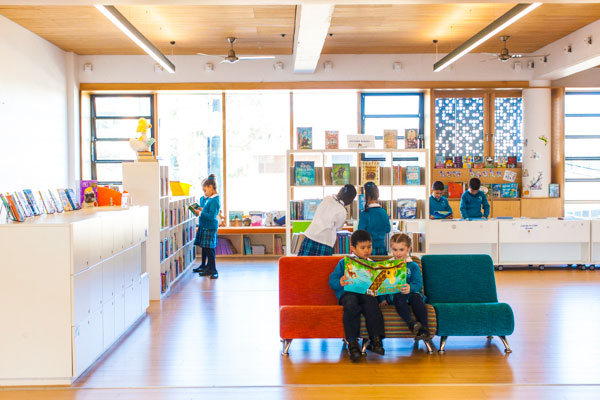 Library
Our extensive library spans over two levels. It is well-resourced providing students with the opportunity to access a range of fiction and nonfiction texts.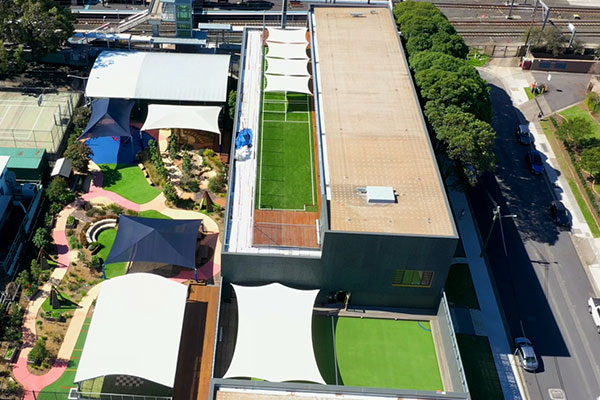 Rooftop Playgrounds
Our two rooftop playgrounds offer students large areas for active play as well as opportunities for students to engage in passive play.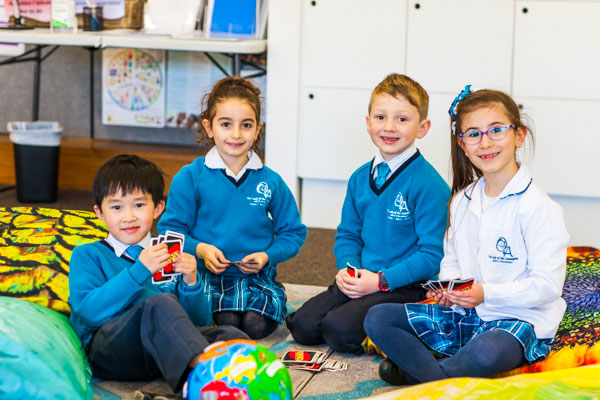 Before and After School Care
SCECS is our onsite before and after school care operating five days per week during NSW School Terms. Vacation Care is also offered.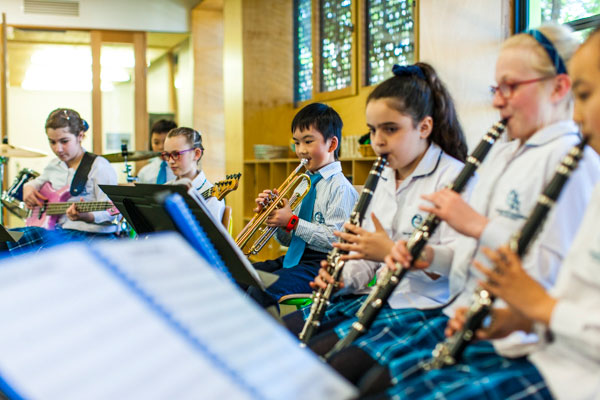 Music Room
Our purpose-built music room is well-resourced and includes access to individual soundproof practice rooms.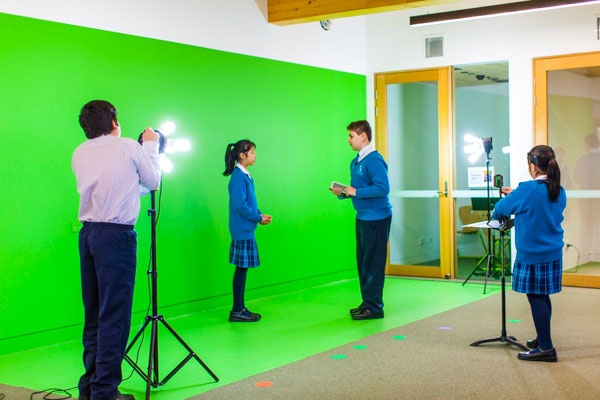 Green Screen Room
We have a green screen room which is available for photo and video experiences, enhancing student digital skills.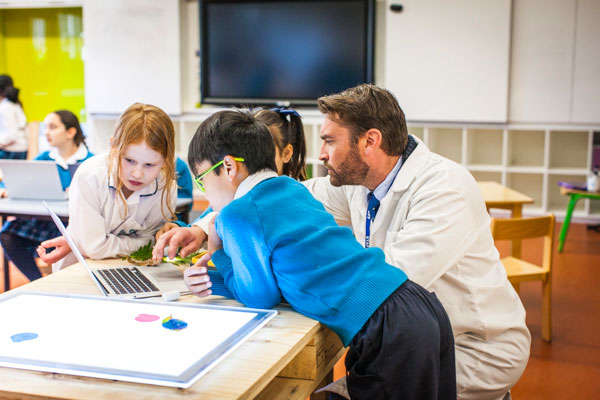 Maker Space (STEM)
Our Maker Space is well equipped with resources to support STEM education. This unique space allows students to further develop problem solving skills and critically think as future creators and innovators.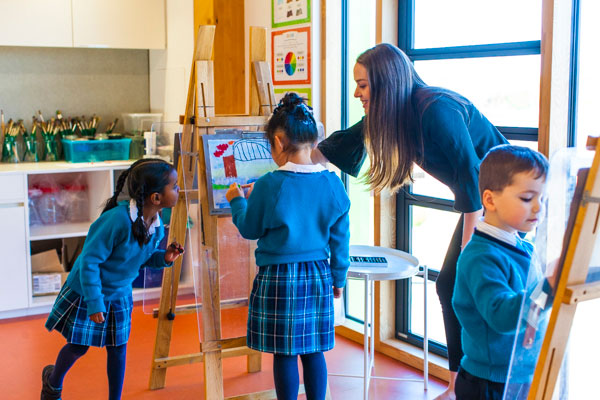 Creative Arts Room
Our creative arts room is purpose built to support the development of visual arts and drama curriculum. Students are encouraged to use the spaces to experiment with developing skills and techniques during the creative process.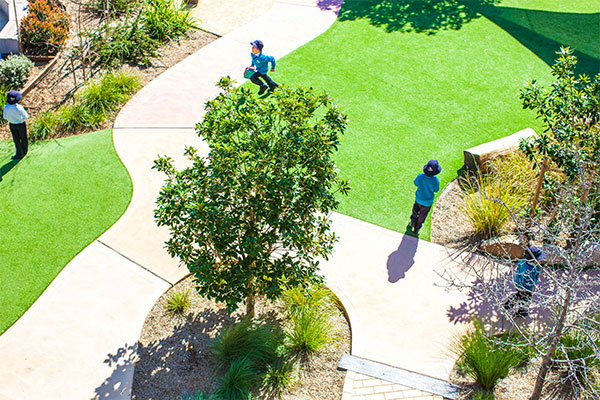 Outdoor Learning
Our students have the opportunity to engage in an abundance of outdoor learning experiences that are practical and inquiry- based. Our active Garden Club supports student learning in making a sustainable difference through composting and gardening.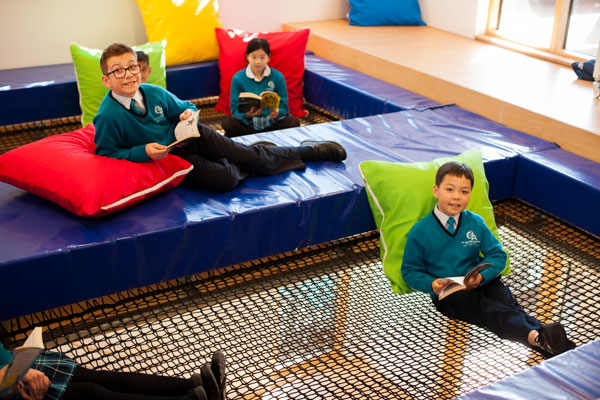 Reading Net
Our elevated reading net allows students an alternative setting to engage in the reading process.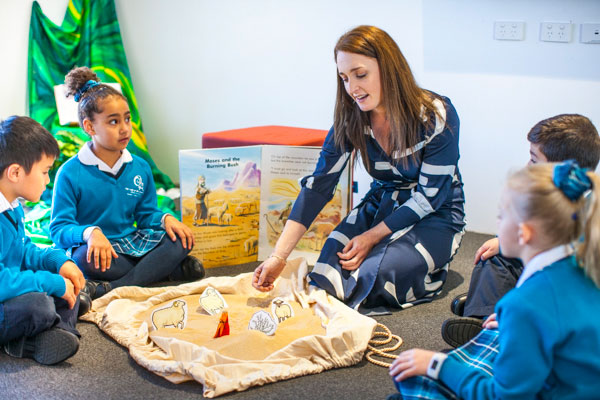 Prayer Room
Our prayer room is a dedicated space for reflection, drawing on the richness of our Catholic faith. It is a reverent space for students to engage in contemplative prayer and listen to Scripture stories.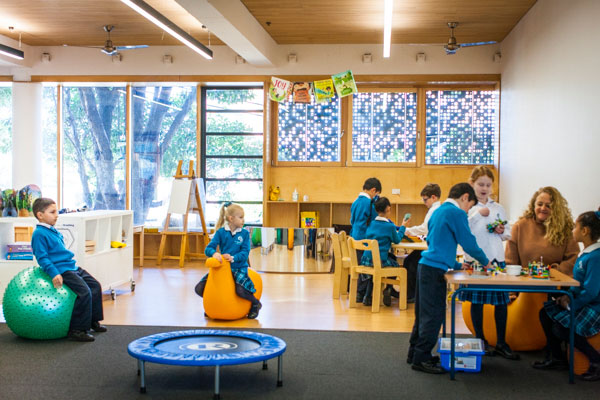 Sensory Room
Our sensory areas offer students a therapeutic space to be calm and reflective. They have access to a variety of sensory equipment to help them refocus and prepare for learning.